OEC2300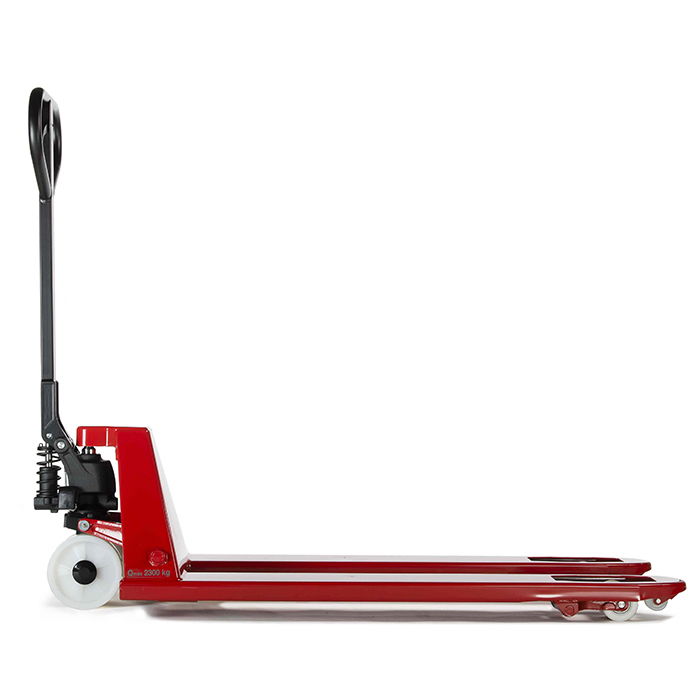 Manufactured by Toyota using the same frame and hydraulic unit as the popular and BT Lifter pallet truck, the only difference between the 2 pallet trucks being the handles, the OEC2300 pallet trucks uses a full steel handle, where as the BT Lifter has the part steel, part polyamide handle.
Available in the following widths 520mm and 685mm and fork lengths of 1000mm and 1150mm
Steer wheel options include, Nylon, Polyurethane, Iron, Rubber, Anti Static Rubber and Powerthane
Load wheel options include, Nylon, Polyurethane, Iron and Powerthane
All load wheels are available in either single or tandem (bogie) options.
450x910 Printers pallet truck also available in this model.
TotalLifter AC25
Manufactured outside the EU, this pallet truck has a long established following in the UK.
With the comprehensive spares support offered by this model, you're able to purchase this model, safe in the knowledge that should any faults or damage be encountered in the future, the spares required will be available to carry out swift repairs, ensuring your pallet truck remains in use for years to come.
Available in the following sizes and wheel options.
Fork Widths 540mm and 685mm
Fork Lengths 1000mm 1150mm 1800mm 2000mm
Steer Wheels: Nylon, Rubber or Polyurethane
Load Wheels: Nylon or Polyurethane
Load wheels are also available in single or tandem options.